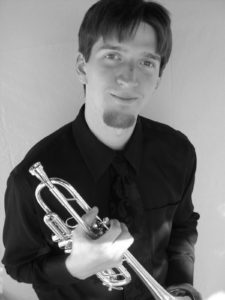 The trumpet is a majestic and sonorous instrument and its resonant sound is the perfect musical compliment to the splendor and beauty of a wedding celebration. For many musical and practical reasons, it is also one of the most commonly used instruments at weddings. If you are interested in having me perform at your wedding or ceremony, please contact me directly.
As a professional, it is my job to make the process of arranging and planning the music for your ceremony or event as simple, personal, and easy as possible. Every wedding is as unique as the people and families involved in the ceremony, and the music is no exception to this. Whether prayerful or joyful, traditional or personal, I work to create and arrange custom musical programs that fit the tastes, personalities, and special ideas of each wedding couple. There are literally tens of thousands of musical works that could be used to set the right mood for your ceremony.
I am also equipped to arrange for the rest of the musicians for your wedding. Whether you're looking for the grand sound of the organ, the tender sweetness of a string quartet, or with the regal majesty of the brass quintet, I can assemble just about any combination from a short list of the highest quality musicians available.
Repertoire and Sound Samples
Here are fourteen of the most requested and most beloved pieces of music in wedding ceremonies along with high-quality MP3 sound samples for download.
| | |
| --- | --- |
| [sc_embed_player loops="false" fileurl="/files/demo/clarke-trumpet voluntary-tpt+org.mp3″] | Jeremiah Clarke: Trumpet Voluntary |
| [sc_embed_player loops="false" fileurl="/files/demo/bach-jesu joy of man's desiring-tpt+org.mp3″] | J.S. Bach: Jesu Joy of Man's Desiring |
| [sc_embed_player loops="false" fileurl="/files/demo/bach-zion hears the watchmen singing-tpt+org.mp3″] | J.S. Bach: Zion Hears the Watchmen Singing (from Wachet Auf!) |
| [sc_embed_player loops="false" fileurl="/files/demo/handel-air from water music-tpt+org.mp3″] | George Friedric Handel: Air (from Water Music) |
| [sc_embed_player loops="false" fileurl="/files/demo/handel-where'er you walk-tpt+org.mp3″] | George Friedric Handel: Where'er you walk (from Semele) |
| [sc_embed_player loops="false" fileurl="/files/demo/schubert-ave maria-tpt+org.mp3″] | Franz Schubert: Ave Maria |
| [sc_embed_player loops="false" fileurl="/files/demo/bach-gounod-ave maria-tpt+org.mp3″] | Johann Sebastian Bach & Charles Gounod: Ave Maria |
| [sc_embed_player loops="false" fileurl="/files/demo/mendelssohn-wedding march-tpt+org.mp3″] | Felix Mendelssohn: Wedding March (from A Midsummer Night's Dream) |
| [sc_embed_player loops="false" fileurl="/files/demo/wagner-wedding march-tpt+org.mp3″] | Richard Wagner: Wedding March (from Lohengrin) |
| [sc_embed_player loops="false" fileurl="/files/demo/mouret-rondeau-tpt+org.mp3″] | Jean-Joseph Mouret: Rondeau |
| [sc_embed_player loops="false" fileurl="/files/demo/handel-hornpipe from water music-tpt+org.mp3″] | George Friedric Handel: Hornpipe (from Water Music) |
| [sc_embed_player loops="false" fileurl="/files/demo/marcello-the heavens declare-tpt+org.mp3″] | Benedetto Marcello: Psalm XIX The Heavens Declare |
| [sc_embed_player loops="false" fileurl="/files/demo/boyce-voluntary no1-tpt+org.mp3″] | William Boyce: Voluntary No. 1 |
| [sc_embed_player loops="false" fileurl="/files/demo/beethoven-ode to joy-tpt descant+org.mp3″] | Ludwig Van Beethoven: Ode to Joy (from Symphony No. 9) |