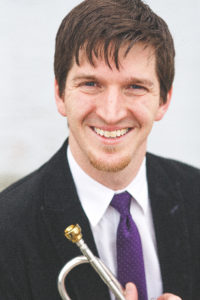 Middle Tennessee trumpeter Fred Sienkiewicz enjoys a multi-faceted career as a performer and educator. Trained as an orchestral trumpeter, Sienkiewicz is a member of both the Jackson Symphony Orchestra and the Owensboro Symphony Orchestra and has performed with the Nashville Symphony, Knoxville Symphony, and Gateway Chamber Orchestras. An active soloist, he has presented recitals and appeared as a guest artist with ensembles throughout Tennessee, Kentucky, Massachusetts and New Hampshire. In 2014 and 2016 he won concerto competitions and appeared as guest soloist with the Brookline Symphony and the Nashville Philharmonic orchestras, performing Alexander Arutiunian's Concerto for Trumpet. Sienkiewicz recently joined the acclaimed and award-winning Bala Chamber Brass.
As an educator, Mr. Sienkiewicz currently teaches music theory and ear training courses Austin Peay State University, maintains an active studio of pre-college students, and is the director of the Madison Street Brass program in Clarksville, TN. Sienkiewicz has previously taught trumpet and brass chamber music at Gordon College, Keene State College, and Plymouth State University, and served numerous summers as at the prestigious University Tanglewood Institute program in Lenox, MA.
Mr. Sienkiewicz is a native of western New England, where he earned his Bachelor's degree in music at the University of Massachusetts, Amherst. Sienkiewicz received his Master's degree at the New England Conservatory of Music in Boston where he studied trumpet with Charles Schlueter, solfege Dr. Lawrence Scripp, and interpretation with conductor Benjamin Zander. Mr. Sienkiewicz is currently completing his doctoral work at Boston University under the guidance of internationally-acclaimed brass soloists Terry Everson and Eric Ruske.